We've always wanted to pick the right assortment of bits and put them in the right handle—and never burden our customer with bits they simply don't need (and shouldn't have to pay extra for). It's kind of our thing. That's why we offer two standard bit assortments for most of our drivers, one assortment for Canada and one for the United States.
For those jobs that require a more-than-standard bit load, we make drivers with genuine Torx, hex key, SAE and HVAC bit assortments.
Carded 3" long power bits and our Bitpac sets that fit all full-size Picquic drivers are sold in many retail locations. Our bulk bit program includes every bit we make for any of our drivers. The most ideal source for these bits is Tenaquip.
Our bits are made from high-grade tool steel, and are precisely machined and expertly hardened to withstand years of heavy use. Our most popular bit is a 3" long 1/4″ hex-shanked power bit—perfect for use in drills and impact drivers. These bits are offered in a broad array of screw types/sizes. A 1/4″ bit is also offered in a 2" length and in a 1.3" length. We also have 2.5" long 3/16" hex bits, available in our smaller drivers, and for the smallest jobs, we offer micro-bits, measuring at just 1" long with a 3/16" hex body.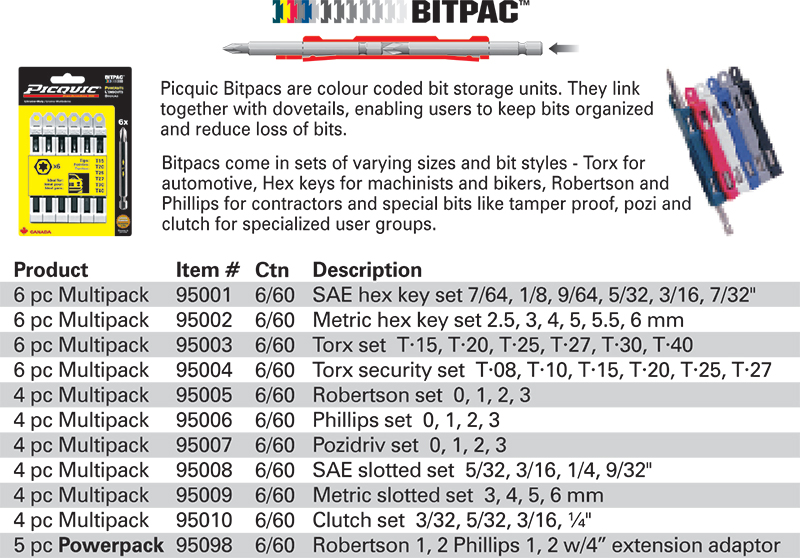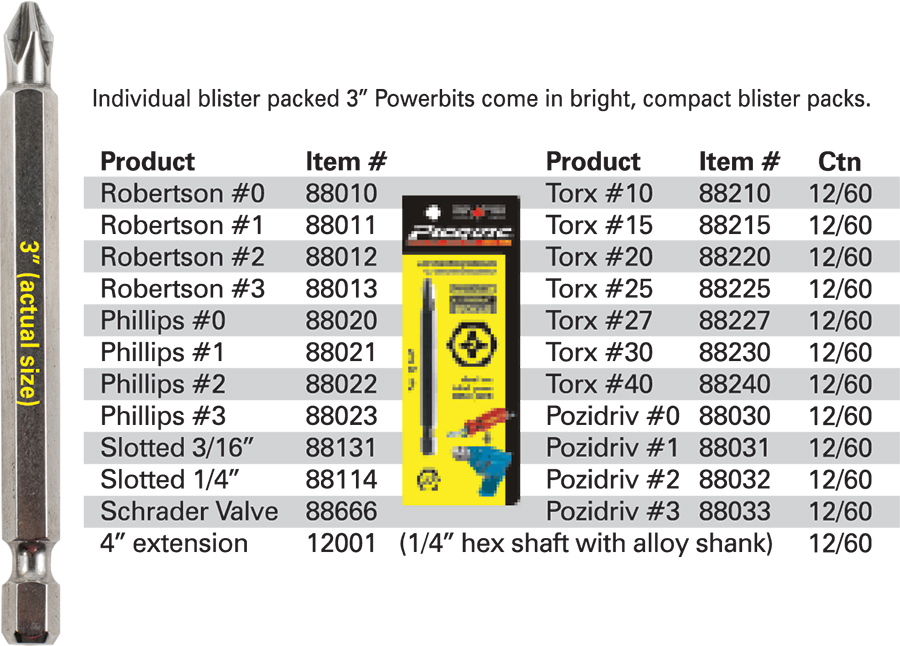 Specialty bits and accessories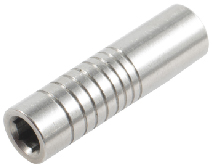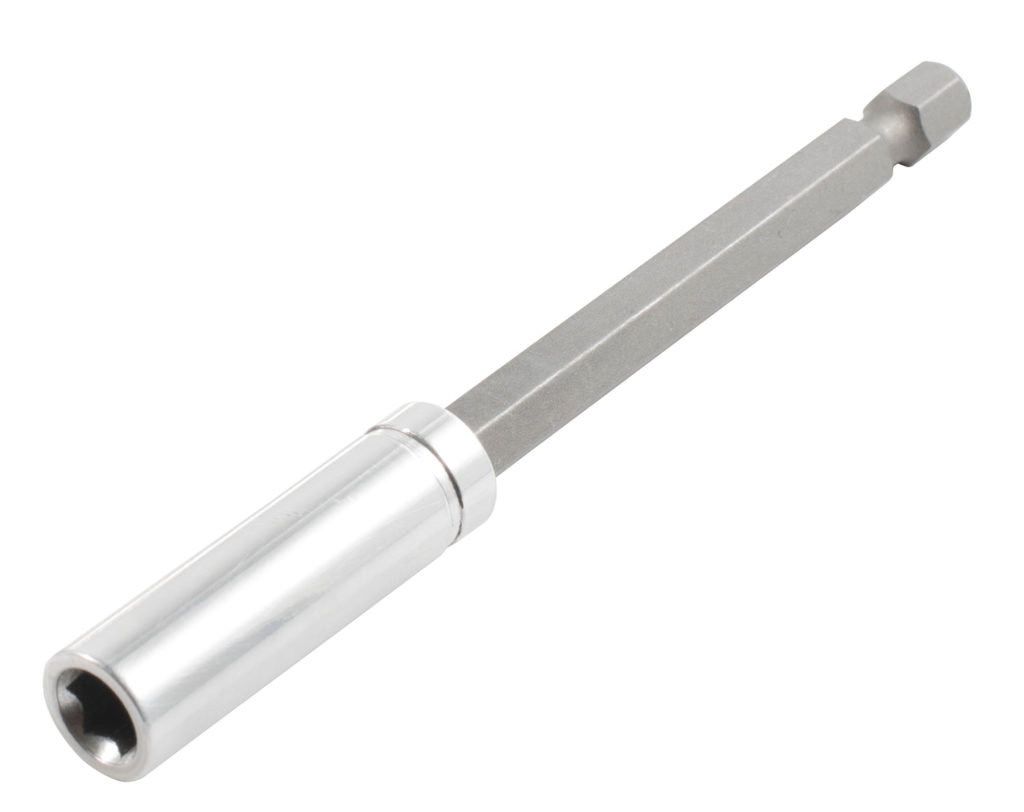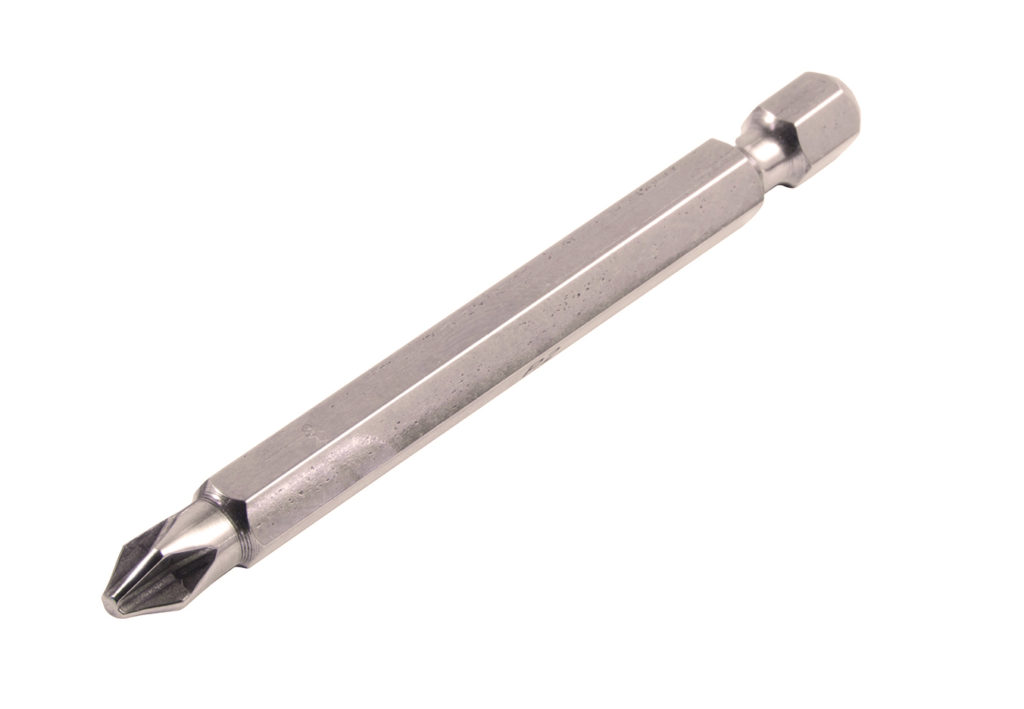 The removable and reversible stainless-steel nut driver works for 1/4″ and 5/16" hex fasteners perfect for hose clamps and as a power nut-driver in a drill. This part is only compatible with our SUPER 8 Plus driver.
This 4" extension adaptor allows access into deep recesses. Made from aluminum and tool steel, this 1/4" hex adapter is perfect for use in drills and is compatible with all Picquic 1/4" hex bits.
We offer corrosion-resistant plated bits in our MARINER screwdriver. We plate these bits chemically, instead of using typical plating techniques like electro-plating.
Electro-plating uses electricity, which can cause the hydrogen within the steel to bubble. As a result, the metal can chip creating an improper fit between bit and screw. Our process, called electroless plating, chemically deposits a nickel plate onto the steel bit, which eliminates a poor fitting bit-to-screw connection and the chipping and cracking associated with cheap plating.
Bit Maintenance and Warranty
We recommend storing your Picquic (and its bits) safely in a tool box and indoors. If you live in a humid climate or your Picquic has been exposed to rainwater (we get it, we're from Vancouver after all), try coating your screwdriver bits in a thin layer of WD40 or other light machine oil to keep them rust-resistant.
Picquic bits are not included under our warranty as they can be used in power-driven applications, which, as with any bit, can cause them to wear overtime. Have a warranty question or need to submit a claim? Please contact us.